Jetzt neu: GIM foresight Studie "Der schwarze Schwan COVID-19" (Update Juli 2020)
Die repräsentative Studie zur Zukunft nach Corona beantwortet die Frage, welche Auswirkungen die Corona-Krise auf handlungsleitende Werte und Einstellungen von Konsumenten hat. Während des Corona-Lockdowns haben wir die Basisstudie durchgeführt, eine zweite Erhebungswelle folgte während der Lockerungs-Phase Ende Juli.

Values & Visions 2030: the universal futures and values study from GIM Foresight
Values & Visions 2030 looks at the future from a birds' eye perspective to identify five megatrends. These are major developments currently exerting a particular impact on world affairs.
How is our environment/world likely to change under the influence of these megatrends—algorithmisation, self-exploitation, life engineering, fragmentation and re-localisation? How can we classify such changes? Based on the answers to these and other questions, we deduce which values are important or will become important in a changing world.
The study thus also explores which value orientations will shape the year 2030:
What will become relevant for society?
What will become less important?
Which changes are welcome and which less so?
What do people hope for and what do they fear?
And what does all this ultimately imply for companies, products and services?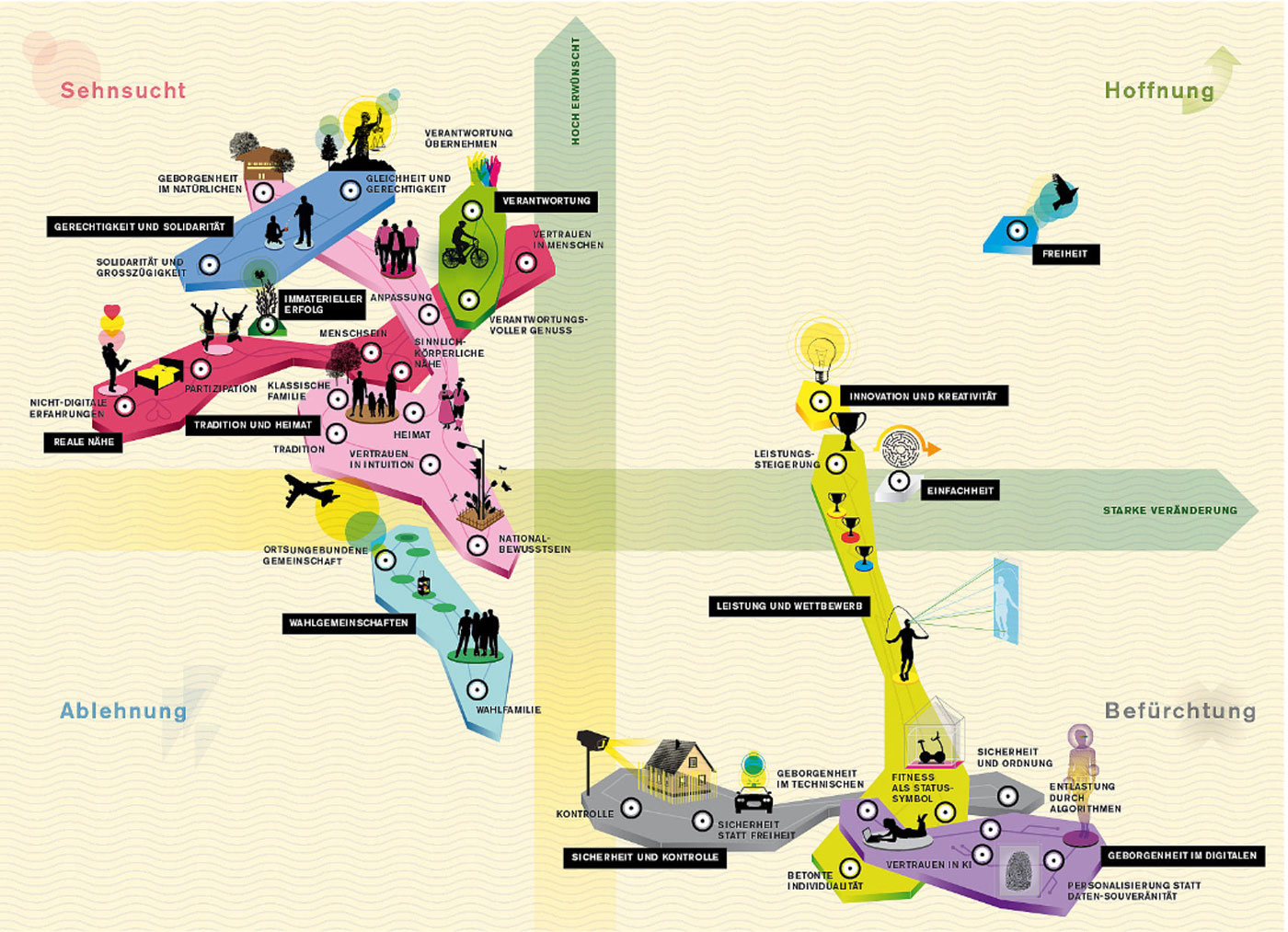 The basis of the study: different disciplines, different methods, different perspectives
The study is based on an interdisciplinary multi-stage approach, in which 36 expert interviews within the framework of the Delphi method were tied into a representative online survey with 1,000 citizens from the respective countries.
The result: five megatrends and 32 so-called value frames which visualise changing social values.
We are thus able to define the tense dynamics between socially dominant values and can interpret relevant lifestyles and consumer orientations within western societies and China for the next 10 years.
The interpretive template for your brand management
The outcome is an 'outline of the future' from which you can draw actionable insights for brand management. 'Values & Visions 2030' acts as a key interpretative template for managing your brand in order to evaluate its future-proofness and develop appropriate strategic measures.